Hybrid efficiency, gasoline power
Hybrid efficiency, gasoline power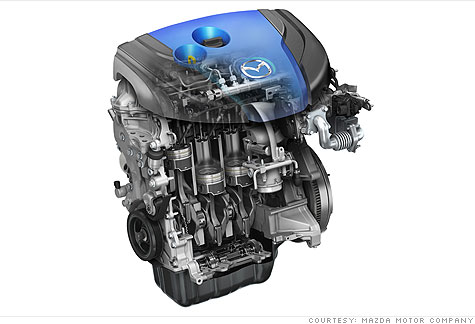 Mazda's SKYACTIV-G engine uses super-precise valve and fuel injection control to boost fuel economy to hybrid-like levels.
NEW YORK (CNNMoney.com) -- Mazda recently unveiled a prototype Mazda2 subcompact that uses an all-new gasoline engine designed to get an estimated 70 mpg in Japanese fuel economy tests .That's about the same fuel economy as a hybrid car but this car's not a hybrid.
Because hybrid technology, with its big batteries and electric motors, is expensive, selling hybrids in large numbers can be a tough proposition. If cost limits the number of hybrids on the road, it also limits the impact on overall fuel use.
So Mazda wanted to figure out just how fuel efficient its gasoline engines could possibly be.
More efficient gas engines cost less to make and sell than hybrids or plug-ins. If they're priced correctly and deliver the power and performance American drivers demand they could not only significantly cut gasoline consumption, they could be big money makers too.
In this engine -- along with a host of design changes -- Mazda engineers used two technologies already available on most new cars to achieve the extreme fuel economy: variable valve timing and direct fuel injection. Other automakers are piling on technologies like tubocharging, automatic start-stop and high-tech transmissions to push the fuel economy of their "ordinary" gasoline-power cars further, too.
Mazda's not saying if this specific car is destined for sale in the U.S. but the basic engine design can readily be "scaled up" to larger sizes, a Mazda engineer said. Mazda plans to use an engine like this in a mid-sized sedan that will go on sale in the U.S. within the next couple of years.
With technologies like these, gasoline power is likely to stick around for the foreseeable future.
Variable valve timing. Traditionally, intake and exhaust valves open and close at certain set times as the pistons move inside the engine. Now, as in the case of the hyper-efficient Mazda engine, computers can vary when the valves open and close depending on performance demands.
With that kind of control, engineers can do all sorts of things with the air flow coming into and out of the cylinder. For instance, in the Mazda engine, extra cool air can be allowed in to flush out hot exhaust gases, cooling the cylinder so incoming gasoline doesn't ignite too soon.
Direct injection. Fuel injection has been used for years, but direct fuel injection, squirting bursts of gasoline in each cylinder where the combustion happens, is the latest take on the technology. This development allows for gasoline combustion to be much more precisely controlled and the energy produced to be more efficiently harnessed by the engine.
For instance, in the Mazda engine, direct injection is used to create a fuel-rich cloud just around the spark plug where the burn starts then spreads to more thinly-fueled areas elsewhere in the cylinder.
Downsize and boost. Turbocharging allows a small engine to do the work of a bigger one. A smaller tubocharged engine can get 20% better fuel economy than a larger engine with similar power output said Kregg Wiggins, who heads powertrain operations in North America for the auto industry supplier Continental.
Case in point, the Ford Taurus SHO with EcoBoost. This car gets more than 100 more horsepower from the same size engine as the base Taurus. Since a smaller engine uses less gasoline, the more powerful SHO's fuel economy is exactly the same as the base Taurus, according to EPA estimates.
Automatic start-stop. In hybrid cars, when you pull up to a red light or stop sign, the engine shuts off until you take your foot off the brake and put it back on the gas pedal. You can expect this technology to become more common on non-hybrid models, as well.
The challenge for engineers is to make start-stop palatable in regular cars that don't have big hybrid batteries and electric motors to help get the car rolling. Without those, starting the engine would usually mean a big shudder and momentary loss of accessory power to things like the radio.
0:00 /2:21Ford Fiesta rolls into U.S.
"You need a fuel injection system that is start-stop ready," said Frank Furster, a project manager for Bosch North America, a supplier company that makes start-stop systems.
Engine computers must be able to detect the position of each piston in the engine so fuel can be injected into cylinders that are in the right position to begin pushing without having crank the engine much.
Also, like a hybrid, the cars can use "regenerative braking," in which braking power is used to generate electricity. That extra power is used to keep the radio, air conditioning and lights going on each time the car cranks up again.
Start-stop technology provides gains up to 15% in real-world city driving, Furster said, but the impact doesn't show up in U.S. EPA fuel tests because those tests are designed with minimal idling.
Transmissions. Some new cars, like the Ford Fiesta, use a twin-clutch transmission. These automatic transmissions have clutches, like manual transmissions, but they have a pair of them allowing things that would be impossible in a stick-shift car. In a twin-clutch, at least one clutch is always closed, sending power to the wheels at all times with no idle-time in between gears.
Transmissions like this offer a three to five percent gain in efficiency over a manual transmission said Continental's Wiggins.
Estimates for fuel economy gains from technologies like these are always extremely broad because they all depend on they are applied and what other technologies are being used at the same time.
At the same time, dual-clutch, like turbocharging and direct injection, offers better performance. That's good for the automakers because offering better efficiency and better performance is what will sell cars.
"Our assumption is consumers are not willing to put up with a loss," Wiggins said. To top of page
Original article: 
http://money.cnn.com/2010/11/02/autos/gas_engine_improvements/index.htm